Elderflower Cake for the Pickers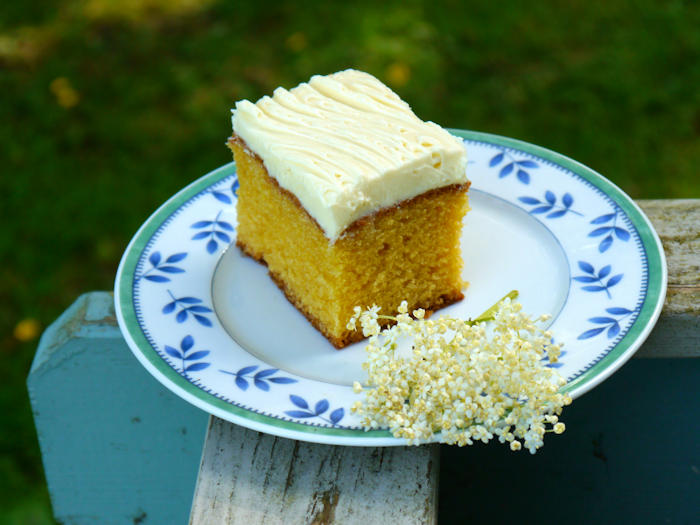 Sustenance and energy maintenance are vital requirements of the Team Demijohn Elderflower pick and this year I decided to supplement it with a sugar boost of a particularly appropriate variety: Elderflower cake made with our delicious elderflower vinegar and the addition of lemon zest. Being easier to transport to ravenous pickers and plentiful enough to feed a substantial team I opted for a traybake but this would equally suit a round cake with adjustments for baking time. Having experimented with both a butter cream and a drizzle topping the buttercream was voted the winner!
Elderflower products have become more popular in the last few years, and some companies have resorted to using synthetic elderflower flavourings to meet demand. Not us though! We believe that nothing can compare to the fresh, floral aroma and smell of real elderflowers. However, to get the real unique flavour of elderflowers requires hard work as they are not available to buy commercially, and it requires a team of pickers to brave the stinging nettles and be hoisted up on each other's shoulders to reach higher up to hand pick the blooms. Another challenge is that the elderflower season is very short in the UK, being just between the end of May and mid June. The flowers should only be harvested on dry, warm days, with the buds fully open which makes it particular difficult because of the varying unpredicabilty of the Summer weather in the UK.
Elderflower products such as cordials, 'champagnes', and liqueurs are fairly well known in the UK and Northern Europe, but there was a huge worldwide explosion in interest in elderflowers, last year in 2018, because the Duke & Duchess of Sussex chose a lemon and elderflower cake with a Swiss meringue buttercream for their Royal Wedding. Meghan and Harry's cake was made by Claire Ptak of Violet Cakes in London, and her recipe used over 200 Amalfi lemons and 10 bottles of elderflower cordial.
The flavour and aroma of elderflowers is best preserved in vinegar hence why I chose to use our elderflower vinegar in this cake recipe, since it also adds some of the sharpness that is usually provided by the lemons since I opted to use lemon zest instead of whole lemons. The unique taste of elderflower is quite difficult to put your finger on, it is floral, and has subtle hints of tropical lycee or pear, and just like tomatoes are enchanced by basil, the flavour of the elderflower is equally enhanced when married with the citrusy aroma and flavour of lemons.
Elderflower Cake Recipe Ingredients
225g of unsalted butter
225g of caster sugar
275g of self raising flour
2 level tsp of baking powder
4 large eggs
4 tbsp of Demijohn Elderflower vinegar
the finely grated zest of one lemon
Buttercream ingredients
200g of unsalted butter
300g of icing sugar
3 tbsp of elderflower vinegar
How to make our elderflower lemon cake with buttercream
Preheat the oven to 160C or 140C in fan oven.
Blend the cake ingredients well and spread in a greaseproof lined baking tray (mine measures approximated 20x30cm).
Bake in the oven for 35-40 minutes.
When baked a skewer will come out cleanly.
Blend the ingredients for the buttercream and once the cake has cooled remove it from the tin and greaseproof paper and spread the buttercream evenly over the top of the cake.
Cut into squares as required - My tin makes about 30 squares of florally sugary deliciousness.
---