BBC Good Food Summer Show 12-16 June 2013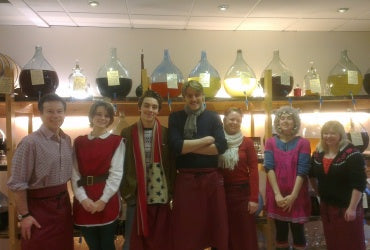 At last the sun is shining but crumbs, it has taken its time to come out! The Summer BBC Good Food Show is a spectacular event at which all the nice things in life come under one roof. It combines a rather large Food Festival, with a plethora of Garden and Lifestyle amusements thrown in.
Go on, give it a Goo!
Because the sun will be out, we will be launching our new Gooseberry Gin Liqueur 17% at the show. It is a delicious Summery drink which can be drunk either over ice or used to make a delightful Gooseberry G & T, a cocktail we have called Evoque. So for those of you who are coming to the show and yet to try it then please come and see us on Stand F502 in Hall 20 of the gigantic Birmingham NEC.
And there is more....
Our new Gooseberry Gin is not the only product we will be bringing along with us. Remembering of course it is Father's Day on Sunday 16 June, we will also have our classic Fatherly drink of Bramble Scotch Whisky Liqueur 23% and other great favourites such as our marmalady tasting Seville Orange Gin 26%, fresh Organic Rhubarb Vodka Liqueur 20.5% and velvety smooth Spiced Rum Liqueur 20%.
If you are thinking of Summer salads then we will have our Gooseberry Vinegar and Blackcurrant Vinegars on tap for the first time.
If you are yet to book your tickets for the show and are now thinking of coming then vist the BBC Good Food Summer Show website for full details. We look forward to seeing you there!
Yours,
Angus
---