Demijohn Lands a Big One!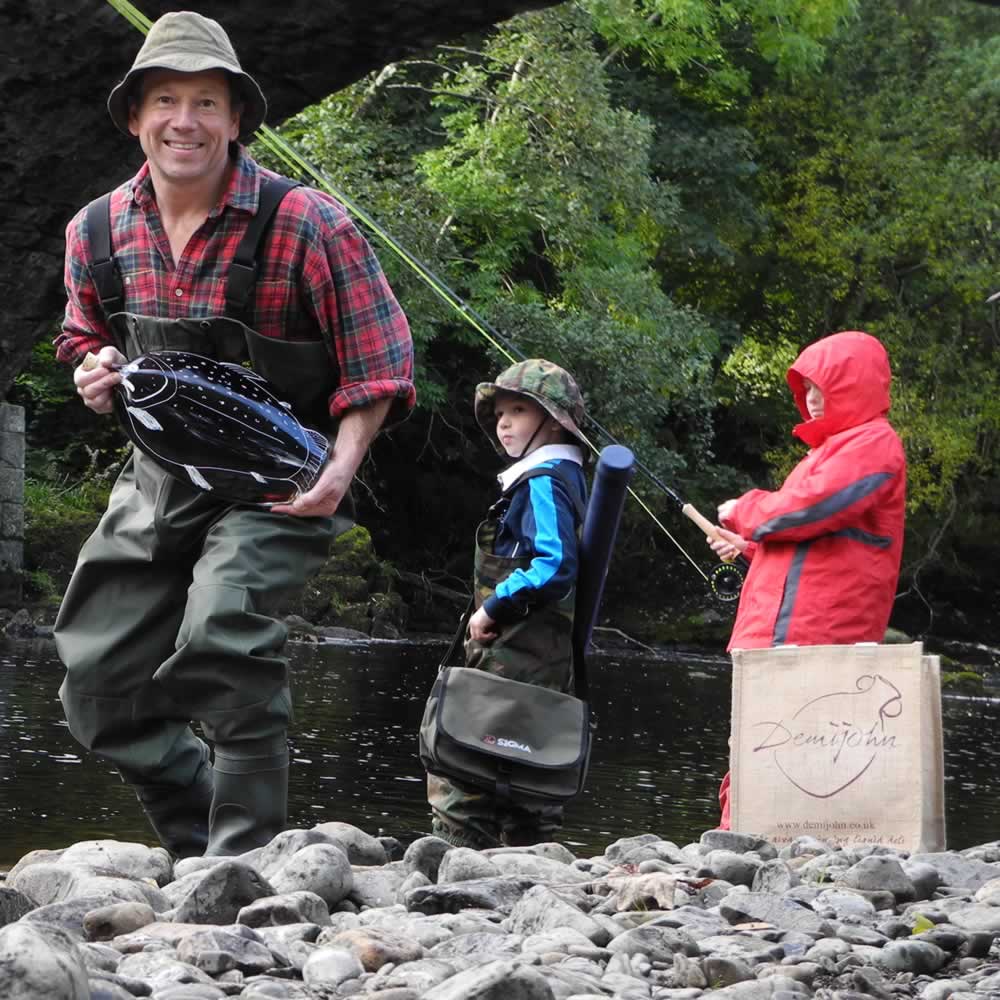 Just as the salmon season has begun liquid deli Demijohn has landed a particularly special big 'one'! Sadly not a prized salmon but something equally delicious and rare – a Salmo of Chocolate Rum Liqueur.
This large catch is the perfect gift for a fisherman as its bitter sweet contents will enhance any fishing experience or gives something to celebrate the 'one that got away'. The giant 3 litre Salmo (or Jeroboam as it is also called) contains the perfect drink for the rum enthusiast, the dark chocolate lover – and of course the fisherman.
It is the first Chocolate Rum Liqueur of its kind created in Worcestershire and combines cacao which has been infused carefully in dark Caribbean Rum and is deliberately less sweet than many of our other liqueurs, but has an incredible depth of flavour. Drink this as an aperitif over ice to start an evening or as a digestif after dinner.
Angus Ferguson from Demijohn and himself a keen fisherman says: "While fishing down on the River Urr I landed this unique bottle of rich British liqueur and imagine my surprise and delight. Why not make the day of your fisher friend and give them a gift to remember?"
Demijohn's 3 litre Salmo of Chocolate Rum Liqueur is priced at £182.50 and is available from Demijohn's shops in Oxford, York, Edinburgh and Glasgow and online at www.demijohn.co.uk
http://www.demijohn.co.uk/chocolate-rum-jeroboam
Ends -
Note to Editors:
Demijohn sources unusual, delicious artisan liqueurs, spirits, oils and vinegars from around the UK and Europe and sells them in a wide range of re-useable glass bottles. Each bottle can have a free personalised message added.
382 Byres Road, Glasgow, G12 8AR Tel: 0141 337 3600
32 Victoria Street, Edinburgh, EH1 2JW Tel: 0131 225 4090
11 Museum Street, York, YO1 7DT Tel: 01904 637 487
20 Little Clarendon Street, Oxford, OX1 2HP Tel: 01865 552179
Normal Opening Hours: Mon-Sat 10-6pm, Sun – 11.30-5pm
For photography, further press information or press samples, please contact: Fenella Taylor at Fenella Taylor PR. Tel: 01389 830390 Mobile: 07721 324696 Email: fenella@fenellataylorpr.co.uk
---