Get the Smooth with the Sharp - New Range of Balsamic Vinegars Launched by Demijohn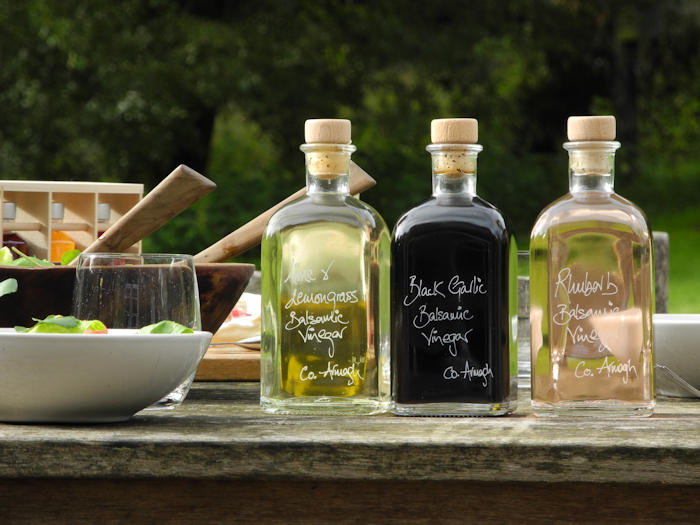 The latest 'super-vinegar' has just arrived with the launch this week by Demijohn or three delicious, naturally-infused balsamic vinegars. Handmade in Northern Ireland, Demijohn is drooling at these new products – Rhubarb Balsamic Vinegar, Black Garlic Balsamic Vinegar and Lime & Lemongrass Balsamic Vinegar.
With the desire for many food lovers to eat natural foods, these balsamic vinegars are exactly that with white balsamic vinegar infused with natural fruits and roots which adds a very special taste to any food it is served with.
Rhubarb Balsamic Vinegar has a sweet, smooth texture and flavour that dresses a salad perfectly or can be used to drizzle over roasted vegetables. Vinegar spritzers are also on trend right now and by adding a dash of sparkling mineral water and ice, this becomes a very moreish soft drink.
With its deep, dark colour and intense flavour, the Black Garlic Balsamic Vinegar should be a staple cupboard ingredient, used as an alternative to traditional balsamic vinegar on salads, in casseroles, for marinating, for caramelising vegetables, in pasta sauces … the list is endless!
The new Lime & Lemongrass Balsamic Vinegar is both sweet and sharp in perfect balance. With a touch of far eastern flavours, this vinegar spices up any salad, fish dish, stir fry or makes an exotic oriental vinegar spritzer.
All these new unique balsamic vinegars are made by Susie Hamilton Stubber in Northern Ireland. With a passion for good, local food, like the Demijohn team, Susie created these new products to satisfy the demand for new ways of dressing salads and other light foods.
Angus Ferguson from Demijohn adds: "This trio of new products, which we launched this week, satisfies the demand from our customers for more foodie products. They have the most incredible flavours and are so unlike any commercial balsamic vinegars on the market. We are sure they can be added to so many dishes to enhance them and look forward to hearing lots of recipe ideas."
The new balsamic vinegars are priced at £2.90/100ml and are available from the Demijohn shops in Glasgow and York and online: https://www.demijohn.co.uk/balsamic-vinegars
Demijohn has a large range of re-usable bottles from 40ml to 3 litre and each can have its own personalised message added for free. Buy now before the Christmas rush!
- Ends -
Note to Editors:
Demijohn sources unusual, delicious artisan liqueurs, spirits, oils and vinegars from around the UK and Europe and sells them in a wide range of re-useable glass bottles. Each bottle can have a free personalised message added. Gift wrapping is also available.
382 Byres Road, Glasgow, G12 8AR Tel: 0141 337 3600
11 Museum Street, York, YO1 7DT Tel: 01904 637 487
Opening Hours: Mon-Sat 10-6pm, Sun – 11.30-5pm
For photography, further press information or press samples, please contact: Fenella Taylor at Fenella Taylor PR. Tel: 01389 830390 Mobile: 07721 324696 Email: fenella@fenellataylorpr.co.uk
---