The Demijohn News - A is for Asparagus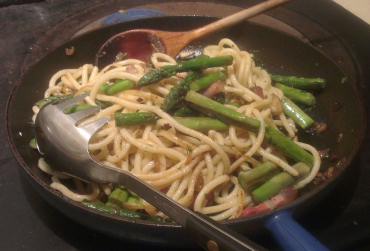 I absolutely love pasta! Well done Italy for inventing such a food. However, you do need to have the odd inspirational thought when creating a pasta dish to ensure you don't get stuck in a "Pasta Bake Rut" or PBR for short.
Messing about at the stove last week I came up with a delightful little dish using fresh British Asparagus which has just come into season (and thanks to the long Winter, I do mean just!).
My pici pasta with asparagus uses our irresistible 25 year old Balsamic Vinegar and our grassy Kabbadates Extra Virgin Olive Oil. It is fabulously quick to make, serves two good eaters and is superbly easy to wash up. Whoever you are making it for will think you are a legend in the kitchen. See how I made it?
Fairs and Events
Having just returned from our action packed adventures at the Dales Food Festival at the start of May, we return next week to Leyburn in the beautiful Yorkshire Dales to support another good cause the ABF The Soldiers' Charity. Their Spring Fair will be held in Tennants Auctioneers on Wed 22 May (5-9pm) and Thurs 23 May (10am to 4pm). It is a tremendous gathering of small, high quality, independent traders selling everything from china and rugs to chorizo and our Spiced Rum! So if you visited us in Leyburn at the food festival and need a quick refill of your Gooseberry Gin Liqueur bottle, for example, we would love to see you!
And finally.....
An apology. I am sorry for any frustrations you may have suffered with the April "Rhubarb" edition of The Demijohn News when trying to open the links within the email. We had a technical hiccup with our new e-newsletter format which is now happily resolved. Thankyou to all those who wrote in kindly to inform us of the problem.
We always like hearing from you, with any stories or recipe ideas that you have. So please keep the emails coming!
yours,
Angus
---