The Demijohn News - Introducing Rhubarb and Ginger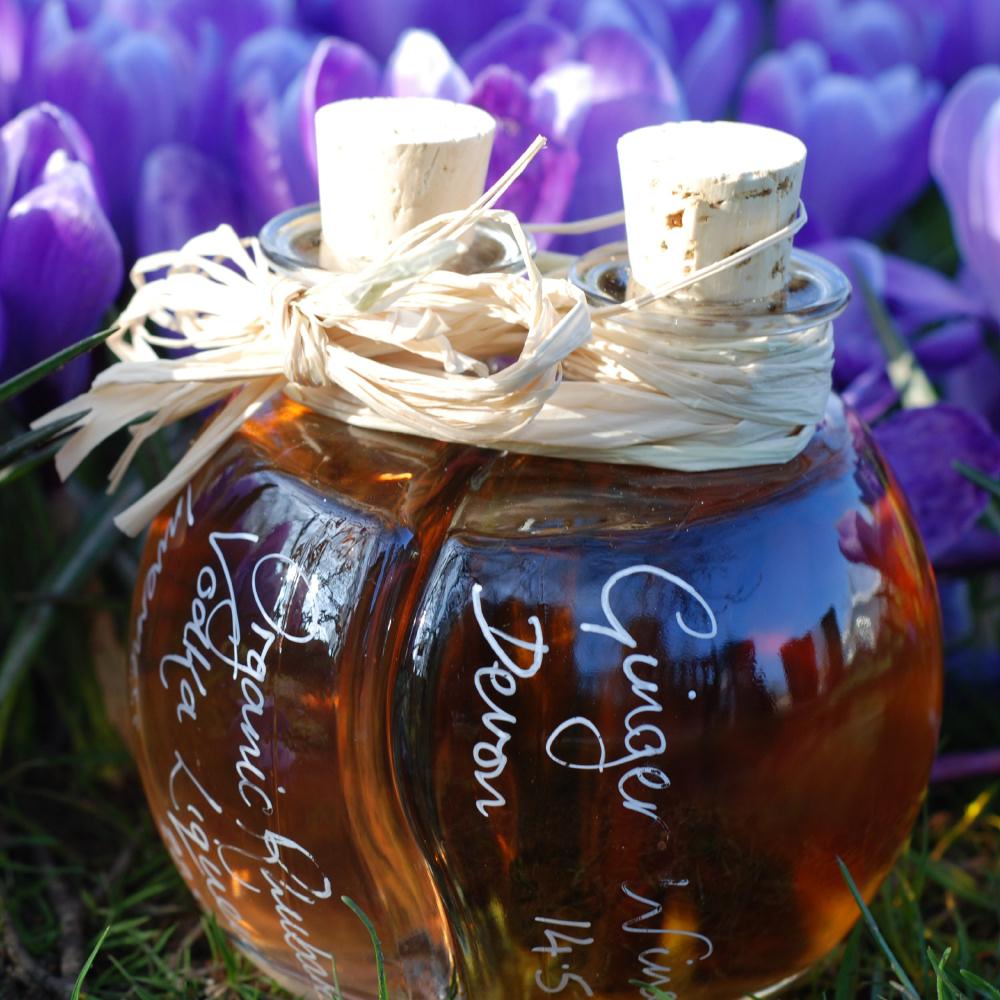 Rhubarb & Ginger, a mischievous pair....
Rhubarb and Ginger could very well be the names of your dog and your cat. However, it is not. This is a beautiful set of delicious drinks contained within our newly returned Ying & Yang 200ml bottles. Our smooth Organic Rhubarb Vodka Liqueur 20.5% and fiery Ginger Wine 14% can both be drunk separately. Mix them together, with a little ice, and you make our simple yet irresistible Carrie MaK Cocktail. No wonder then that this is a popular set for a present. If you are needing an idea for Mothering Sunday on 30th March, then this could very possibly be it?
To ensure the safe and timely delivery of any order prior to Mother's Day, please place your order before Mon 24th March 2014 to take advantage of our free standard UK Mainland delivery offer for orders over £40.
A Tasting Evening on the House
Following on from our successful on the house tasting evenings which we ran for both Burns Night and Valentine's Day, we are planning to run another free to attend evening on Thursday 27th March in all shops. This time we will be tipping our hats to Mothers in particular, however all are welcome!
The evening will be based on our standard Tasting Evening, starting at 6.30pm and running for about an hour. The entertainment will start with a cocktail or two while you hear the Demijohn story so far, followed by a hosted tasting of some of the many wonderful food and drink products we have on tap. The evening is relaxed and fun and could be a good opportunity to introduce your Mother or friends who have yet to discover us.
If you cannot make our planned evening on 27th March you are very welcome to book a private event for a group of 10 or more or purchase our popular Tasting for Two voucher to use on a separate date. Please contact us if you need more advice.
How do I attend on 27th March?
To be eligible to attend on Thurs 27th March you must bring at least one guest, but you are welcome to bring up to a maximum of 3 guests. To attend please simply send an email stating which shop you would like to attend, Edinburgh, Glasgow, York or Oxford and your total number of guests. We will then send a return email confirming your places and any other details required.
Events News
Mark and his little Demijohn Van have been attending many new Wedding Fairs throughout February and early March and our wedding favours have certainly been well received by many new and enthusiastic Bride and Grooms.
Wedding Favours
If you would like help to discuss a wedding favours order for your big day, please contact us and we will provide you with all the wonderful options available and a quick quote.
Free Country Living Spring Fair Tickets
As Easter approaches the events season really gets going and Mark has been polishing his shelves up ready for the first major event of the year, the Country Living Spring Fair in London. Held in the Business Design Centre in Islington between Wed 19th and Sun 23rd March next week, this splendid show is an outing that all would enjoy. We will be exhibiting on Stand F19.
The good news is that we have some free tickets to hand out. All you need to do is to collect them from our Oxford Shop and we will part with them on a first come first served basis. However, if you are travelling far and wide to come and see us, please feel free to call either Darren or Lysander in the Oxford Shop on tel: 01865 552179 to ensure that they have a ticket left and reserved for you.
All our booked events for 2014 can now be viewed on our Fairs & Events page, this is updated regularly.
Staff News
We are recruiting at the moment for a full time position in our York Shop to assist with shop sales and also our growing mail order business. If you know of anyone who thinks they have what it take to become a Demijohnnie, then please ask them to consider making an application.
Keep smiling and the sun will continue to shine. Whether it is in passing, at a tasting or at an event, we look forward to seeing you soon.
Yours, Angus
---