The Demijohn News - Welcome Sloe Gin Season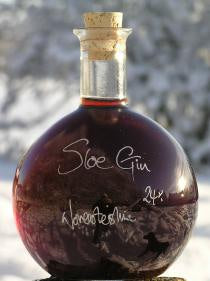 Winter is coming and the sloes are looking fat!
Thanks to a very late but no less surprising first proper frost at the beginning of the week we are all starting to feel a bit wintery here at Demijohn HQ. Being a sentimental type I'm starting to look forward to that lure into the depths of winter that is Christmas. I'm always won round by the promise of noisy gatherings of friends and family and the absolute requirement to eat and drink to utter satiation.
A rare delight around the time of the first frost is the annual sloe search and the delightful news is that they are looking really good this year, fat even. All we need to do is get out there and pick them.... Have you picked yours yet?
Luckily our 2012 vintage Sloe Gin 25% is ready for drinking and who can argue that the addition of a little something from Demijohn can make the Winter seem more appealing?
Christmas Free Delivery Offer
Please get your Christmas orders in early to avoid disappointment, and don't forget if you can't get to one of our shops you can order online at demijohn.co.uk. Order online before Sun 1st Dec 2013 and all standard UK Mainland Orders over £30 will be delivered for FREE*, whoopee! (*Normally £5.95 or free for orders over £40, other terms may apply)
Some Early Christmas Recipe Tips
Smoked Salmon, a frequently served Christmas luxury, becomes more than simply food for the brain when served with a tot of Lime Vodka Liqueur 24%, Mince pies are taken from the humdrum to the exotic when served alongside a Demijohn Spiced Rum Liqueur 20%, and Stilton reveals all its majesty when paired with a Somerset Pomona 20%. Tempted to try?
Oxford Tastings
Since our launch on 9th October, our newest branch of Demijohn at 20 Little Clarendon Street in Oxford would appear to be going down a storm. Darren Anderson, our Oxford Shop Manager and his magnificent new team are enjoying the whirlwind of your enthusiasm. We had a great response to our launch tasting evening events, which gave about 150 of you the opportunity to hear a light hearted introduction to all we do, while enjoying a taster of our wares. Thankyou to everyone who has been involved so far, especially my Uncle who piped us open on day one!
If you missed them, we aim to run a few similar "on the house" tasting evenings early in the New Year within all our shops which you will be able to sign up for via a future newsletter. However, if you cannot wait that long and would like to book your own private evening for friends or work colleagues in the next few weeks then please contact us and we will be more than happy to plan an event with you. Click to find more details on all our Tasting Events.
Fairs and Events
Mark the Tireless, the heroic champion of Demijohn Events 2013, continues to appear at Fairs and Exhibitions throughout November and December taking the marvel that is Demijohn out to you. You can find him enthusing (noisily) at Living North Christmas Fair at York Racecourse until Sunday this week. However he will be all over the shop over the next 7 weeks and our full list of Christmas events including dates and times can be found on our Fairs and Events page. Good luck Mark!
Next time in The Demijohn News - Our latest product invention, handmade Demijohn Liqueur Chocolates....mmmm!
We love hearing your thoughts. So if you have any good or bad ideas that you think are worth sending in, please do!
Yours,
Angus
---