A Simple Tomato and Basil Salad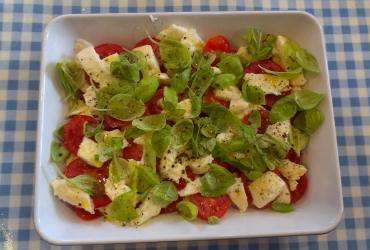 This is a quick and easy salad recipe that not only tastes delicious, it takes seconds to prepare and is pretty healthy too.
Our simple Tomato and Basil Salad is wonderful for making lunch a little more fresh, and great for a low stress dinner party starter idea. And if you grow your own basil and tomatoes, as we do, then as we have found it is a great way to use up a glut of homegrown produce!
Ingredients
Fresh Tomatoes
Fresh Basil
Mozzarella
Salt and Pepper
Preparation
Slice your fresh tomatoes and lay in a shallow dish or plate. Chop a ball of Mozzarella into slices or chunks and lay on top of the sliced tomatoes. Remove fresh basil leaves from their stems and sprinkle generously over the whole dish. Crack over some salt and pepper, adjusting for your own personal taste. Then drizzle first 25 Year Old Balsamic Vinegar over the salad, then more liberally, our Villa Montalbano Extra Virgin Olive Oil. The order of vinegar then oil is important, as the oil will wash the balsamic vinegar through the salad giving you a more rounded dressing.
This dish can be made either in a single layer or mutiple layers depending on numbers to be fed. It can be served with nice thick homemade wholemeal bread or ciabatta. If you haven't got Mozzarella to hand then try this dish with flakes of parmesan cheese, a surprise is in store!
Related topics:
Raspberry, Apple and Walnut Oil Vinaigrette
---