Pici Asparagus with Balsamic Vinegar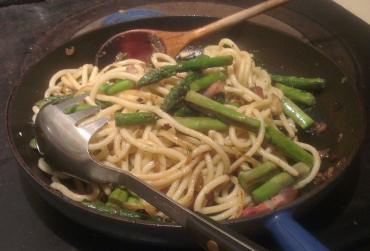 I absolutely love pasta! Well done Italy for inventing such a food. However, you do need to have the odd inspirational thought when creating a pasta dish to ensure you don't get stuck in a "Pasta Bake Rut" or PBR for short.
Messing about at the stove last week I came up with this delightful little dish using fresh British Asparagus which has just come into season (and thanks to the long Winter, I do mean just!).
My pici pasta with asparagus uses our 25 year old Balsamic Vinegar and is fabulously quick to make. It also serves two good eaters, is superbly easy to wash up and whoever you are making it for will think you are a legend in the kitchen. So how is it done?
Ingredients (for two)
12/14 fresh British Asparagus Spears
200g Pici Pasta (or Spaghetti)
80g Pancetta (or if you cannot get it Smoked Streaky Bacon)
1/2 Onion
2 cloves of Garlic
A few sprigs of fresh Coriander
Parmigiano Reggiano
Salt & pepper
Preparation
Chop onion, garlic, pancetta, asparagus and coriander before you start. The asparagus spears should be chopped in thirds, the other elements in chunks. Soften the onion, garlic and pancetta in a heavy based frying pan with a tbsp full of Kabbadates Extra Virgin Olive Oil. At same time, in a separate pan, cook your pasta.
Once browned, remove the onion, garlic and pancetta from pan and place to one side keeping warm. Add asparagus to pan and fry hard until the spears are looking scorched in places. Add back in the onion, garlic and pancetta mix, chopped coriander and another tbsp of olive oil. Now check pasta is ready, it should be "al dente," firm but not hard, drain and add to frying pan. Season with salt and pepper and mix contents of frying pan well on a low heat.
To Serve
Serve on large warm plates and drizzle our 25 year old Tagliavini Aceto Balsamico Extra Vecchio sparingly over each dish, adding grated parmesan cheese as required. An accompanying salad of green leaves, dressed with our Kabbadates Extra Virgin Olive Oil, and a good rich red table wine to drink will make this dish fit for any dinner party. Forget the PBR issue, anyone hungry?
---