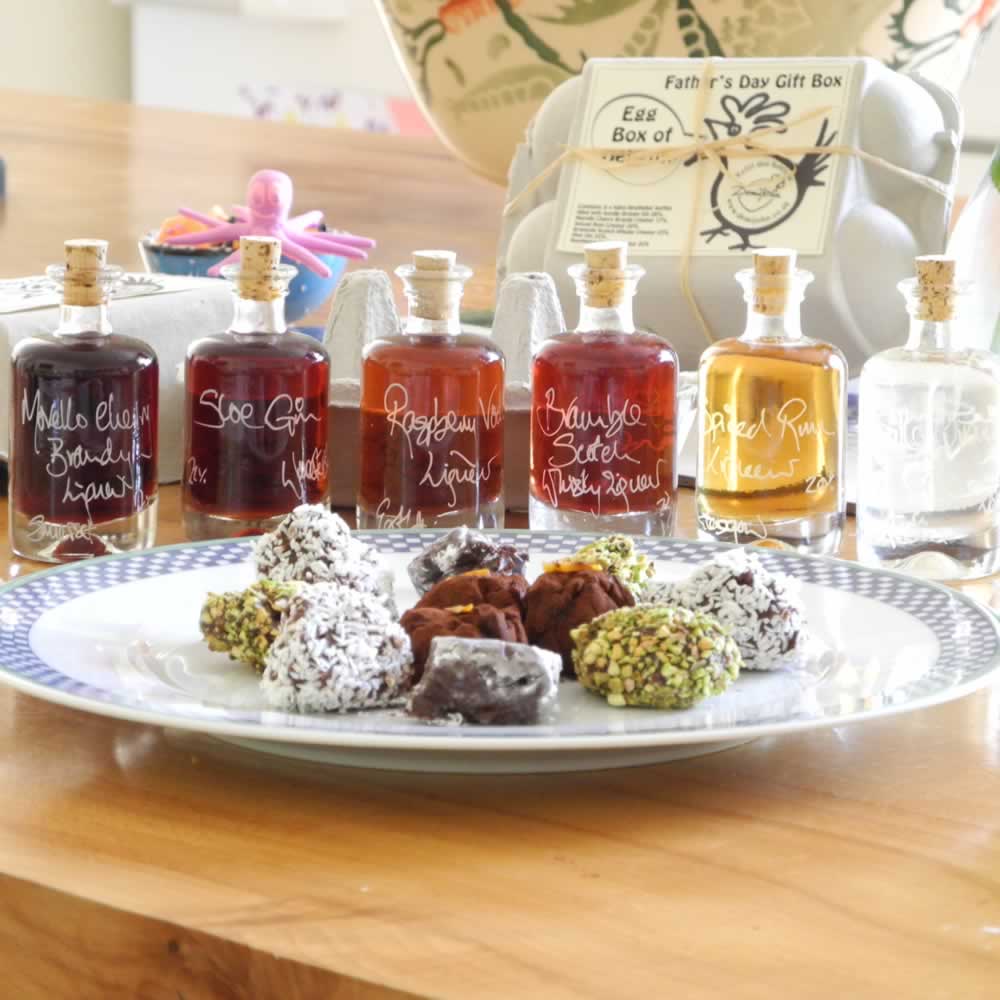 Like so many others we've found it incredibly hard to get hold of flour during the Covid-19 Lockdown of Spring 2020. Since an initial flurry of baking our supplies have vanished and we've had to think of flour free sweet treats to bring those little moments of indulgent luxury to life.
These incredibly rich liqueur truffles fit the bill perfectly. If you're lucky and manage to hide a few away in the freezer they would make a lovely Father's Day gift idea too and can buy the drinks required easily in our Egg Box of Delights Father's Day Gift Set. They're also incredibly easy to make, if a bit sticky!
Boozy Chocolate Truffles
Ingredients:
Chocolate coatings:
Pistachio kernels, crushed
Cocoa powder
Orange zest
Dessicated coconut
Icing sugar or Hundreds of thousands.
Granulated sugar or chocolate vermicelli
Melted chocolate
Preparation:
Chop the chocolate as finely as possible and place in a bowl. Warm the cream in a pan with the butter until the butter is melted and the cream is steaming but not boiling. Pour the cream mixture over the chocolate and stir well until the chocolate is all melted and stirred together with the cream.
Now divide your mixture into six bowls and add the liqueurs to each, add a teaspoonful at a time and keep mixing. Adjust the quantity according to taste. Put your bowls of ganache into the fridge and allow to cool for as long as possible. We left ours for a little over an hour, longer would be better!
Once the ganache is thoroughly cooled shape the chocolates. A melon baller would be much neater than my attempts with two teaspoons but since they are home-made I thought that we could get away with the rustic look! If your ganache is really well chilled dip the melon baller/spoon in hot water to help it shape the chocolates. Roll each chocolate in your chosen coating.
We used cocoa powder for the Seville Orange truffles decorated with a miniscule sliver of orange zest, crushed pistachios for the Mead truffles and desiccated coconut for the Spiced Rum Truffles but use your imagination! Sugar or chocolate vermicelli would also make a good coating had we had any in the cupboard.
Finally, store your chocolates in an airtight box in the fridge or freeze if keeping for more than a few days.
How do I buy the liqueurs for this recipe?
The 6 liqueurs we used in our Boozy Truffles Recipe are the same as those contained on our Egg Box of Delights Father's Day Gift Set. However, you can quickly vary the quantities and type of each drink you use via our Liqueurs page.
---